RPS is an official bimonthly publication of Isfahan School of Pharmacy & Pharmaceutical Sciences.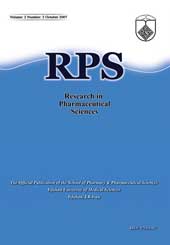 Online ISSN:
1735-9414
Print ISSN: 1735-5362

Journal Indexing
Research in Pharmaceutical Sciences (RPS) is included in Thomson Reuters ESCI Web of Science (searchable at WoS master journal list), indexed with PubMed and PubMed Central and abstracted in the Elsevier Bibliographic Databases. Databases include Scopus, EMBASE, EMCare, EMBiology and Elsevier BIOBASE. It is also indexed in several specialized databases including Scientific Information Database (SID), Google Scholar, Iran Medex, Magiran, Index Copernicus (IC) and Islamic World Science Citation Center (ISC).
Announcements
Article Processing Charge

All manuscripts submitted to the Research in Pharmaceutical Sciences (RPS) are peer-reviewed in the normal way under editorial control. Authors are asked to follow the details of journal charges and word count limits in the table provided in the "Instruction to the Author" section. Upon acceptance for publication a processing fee will be payable. Payment of this charge allows RPS to recover its processing, editorial, and production costs.
Posted: 2016-04-12
Vol 6, No 11 (2016)
Table of Contents
Original Article
This work is licensed under a
Creative Commons Attribution 3.0 License
.
ISSN: 1735-9414