RPS is an official quarterly publication of Isfahan School of Pharmacy & Pharmaceutical Sciences.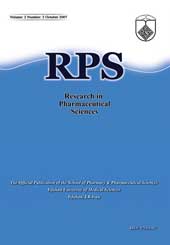 Online ISSN:
1735-9414
Print ISSN: 1735-5362

Journal Indexing
Research in Pharmaceutical Sciences (RPS) is visible in Thomson Reuters ISI Web of Knowledge and is indexed by PubMed and PubMed central and abstracted in the Elsevier Bibliographic Databases. Databases include Scopus, EMBASE, EMCare, EMBiology and Elsevier BIOBASE. It is also indexed in several specialized databases including Scientific Information Database (SID), Google Scholar, Iran Medex, Magiran, Index Copernicus (IC) and Islamic World Science Citation Center (ISC).

Vol 9, No 5 (2014)
Table of Contents
Original Article
This work is licensed under a
Creative Commons Attribution 3.0 License
.
ISSN: 1735-9414